Abe Mor Diamond Cutters & Company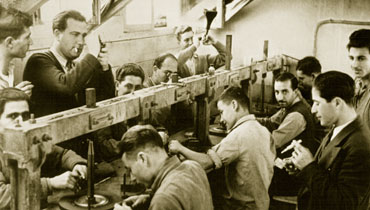 With Abe Mor, it's not just about the stones. It's about a family business carrying on their founder's legacy by treating each client and sale with the same respect, care, and personal attention we give each diamond. For our customers, it's about receiving the exact diamond that not only they were expecting, but that their customer was dreaming of as well. It's about knowing that you will consistently receive properly graded stones with one phone call.
To flourish in the years ahead, it's our responsibility to do more than sell a commodity at a competitive price. We need to deliver a superior diamond and a superior experience to our customers. We need to help you stand out by providing you with diamonds that will beat your competition, and by providing you with seamless customer service to strengthen your goodwill with your customers.
In order to win in today's environment, you cannot do it alone. You need the commitment from your supplier to support you with an extensive inventory full of captivating diamonds. Every one of our clients is invaluable and, more than clients, they are partners. We forge these partnerships with one goal in mind, and that is to enable and empower retailers with superior diamonds, superior marketing tools, and unconditional support when needed.
Abe Mor, the father of the company, was and still is a relentless perfectionist. That trait lives on in each and every member of the Abe Mor Diamonds family. It is also reflected in each and every Abe Mor diamond. Each Abe Mor diamond is cut to achieve maximum brilliance and, when it comes to doing business, we offer the best possible package in an equally shining fashion. Just as a diamond touches many hands throughout the cutting process, the sale of a diamond is no less delicate and intricate. It's an organic, labor-intensive process, requiring trust and dedication of time.